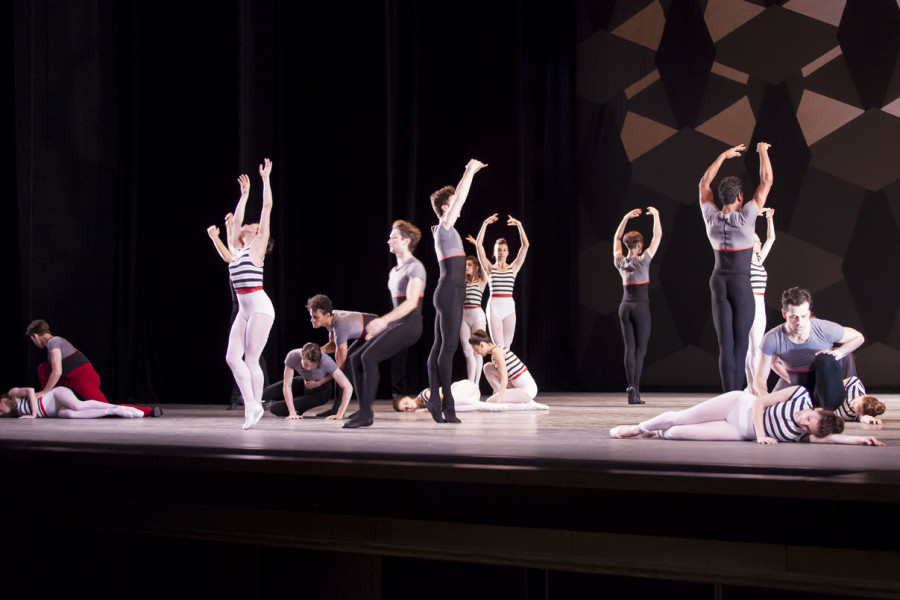 New York City Ballet in Justin Peck's
Everywhere We Go
. Photo by Raydene Salinas.
New York City Ballet is, like many ballet companies, a repertory company. Yet, unlike most, one man drives its artistic vision — George Balanchine. Balanchine has been dead for over 30 years, but his legacy looms over the company. Throughout its existence, the company has featured other choreographers. Some, like Jerome Robbins, created masterpieces that continue to appear in the current repertory, while others, such as Peter Martins, fail to gain much critical or popular momentum.
Martins may be a prosaic choreographer, but he is a gifted administrator. He understands that to ensure the company's fiscal health, he must advance their repertory. Cue Justin Peck, a New York City Ballet soloist. Over the last few years, Peck has premiered works with an architectural sensibility to acclaim. For this season's offering, he capitalizes on past successes with Everywhere We Go, using a candy-colored score commissioned from indie songwriter Sufjan Stevens.
There's a lot to like about Everywhere We Go. Clearly, Peck has absorbed the lessons from last century's masters, glazing Balanchine's formalism with Robbins' cool pedestrianism. The results are often enchanting. The academic base (classroom steps like cabrioles and soutenus abound) barely corks the piece's exuberant, freewheeling spirit. Arabesques stretch like taffy, their linear elegance smudged, and développés, from dancers prone on their backs, are a seductive grotto of stalagmites.
Performers, attired in Janie Taylor's Frenchified costumes, appear energized by the fresh material and happy-go-lucky zeitgeist. There are star principals, Amar Ramasar and Tiler Peck to name a few, but with 25 bodies zipping around on stage, it's the sweeping, democratic crowd scenes that sizzle. In one, a knot of women penchées, legs fanning like a sinewy bouquet; in another, dancers, legs crossed in a textbook sous-sus, faint, tenderly helped to the floor by a fellow performer. These scenes dazzle, both artistically and technically.
There is stop and there is go in Peck's choreography. Sometimes, the dancers stand, feet in parallel, and stare.

Most of the time though, they move in a showcase of fireworks, exploding again and again. Tranquility, when it does appear during a gloriously languorous partnered pirouette, is quickly abandoned. This zealous industry can become too much, like watching multiple back-to-back ballets in fast-forward.
Peck, determined to wow, never really establishes an emotional message beyond fervent precocity. As if choreographing for a Vegas revue, he constructs splashy formations. The cast, arranged in a blocky L, fall away, outside ends first. These conceits appear with such regularity that we never have a chance to remember, much less luxuriate in them. So much is happening that nothing can happen.
Everywhere We Go
, with its suggestive title, emblematizes our 2014 lives. Stimulated, fractured, and buzzing with busyness, this work, intentionally or unintentionally, exposes how our over-caffeinated optimism conflates motion with meaning.
This review refers to the performance seen on May 22. Walpurgisnacht Ballet highlighting a luminous Sara Mearns and an efficient The Four Temperaments also appeared on the program.